Old Estonians were clever, clever people. They knew that dancing had a powerful and magical influence on the surrounding world. The fact has been kept in mind throughout the centuries and folk dancers in Tartu and Tartu County are especially unstoppable. They gather – in fact sometimes more than 1000 of them – in the middle of sometimes freezing Estonian winter right on the slippery cobbles of Tartu Town Hall Square where the audience`s world cannot escape the magic either.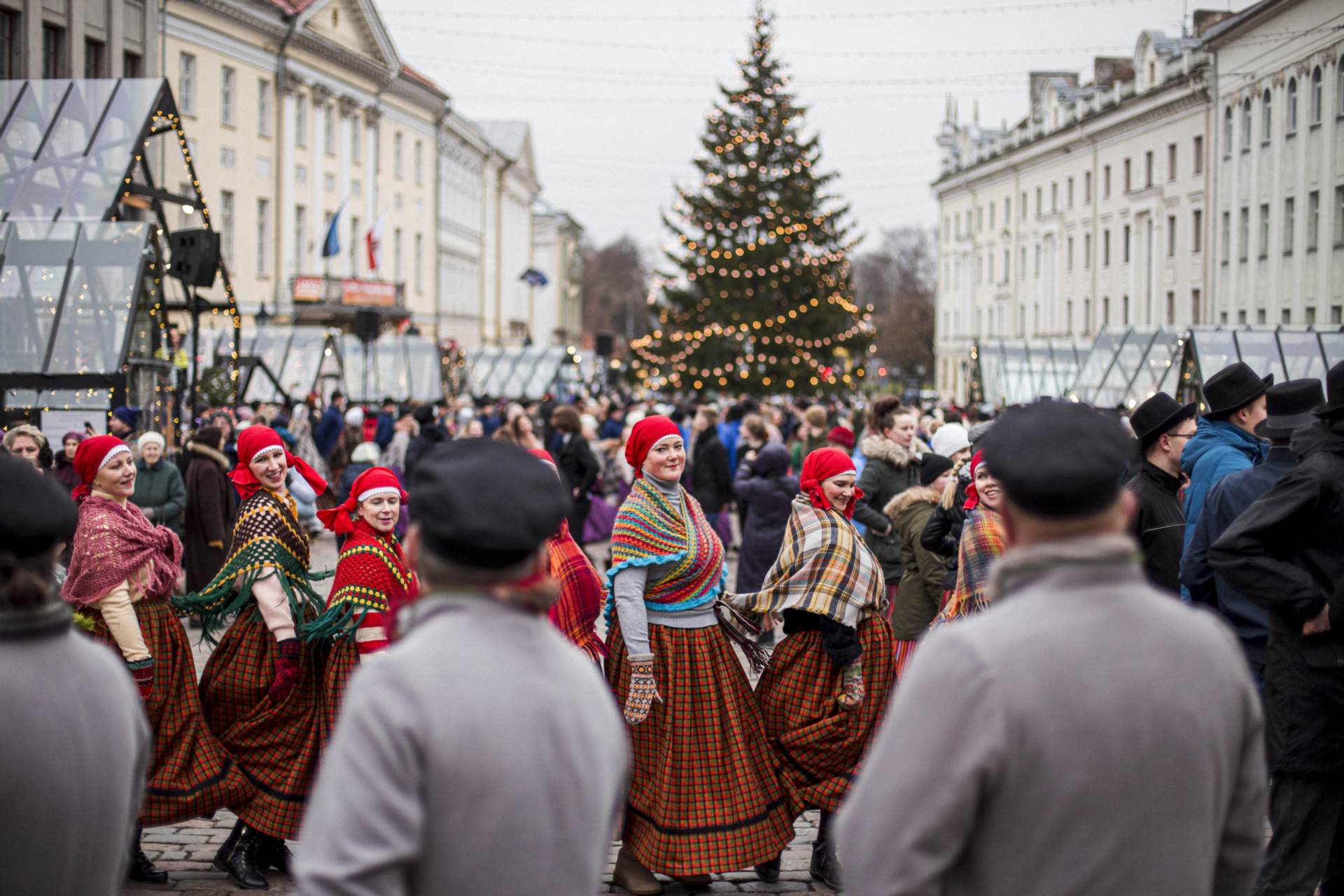 Come and see and perhaps even participate (if you so wish!) in some of the most loved Estonian folk dances! A great backdrop to the event is always conveniently provided by Christmas City Tartu – a very special meeting place right on Town Hall Square of Tartu that is always worth the visit.
All this will again be the case on 11 December 2021 at 1 p.m. when dancers from Tartu, Tartu County and abroad perform Estonian folk dances and simple group dances right in the heart of Tartu. 🎄
✨ Live music is playing and the band includes the one and only Tiit Kikas (violin), Cätlin Mägi (bagpipes, Jew`s harp, well, basically you name it!) and Allan Jakobi (accordion). Dancers will normally have lifted your spirits up to a point where you don`t wish to depart them, so do follow them to Gunpowder Cellar where the folk dance party continues at 2.30 p.m. and oh joy, now inside this ancient and truly magnificent building. A gang of six lovely gentlemen ("Tuulelõõtsutajad") will take good care of the live music there and of your high spirits with their violins, guitars and button accordions etc.
All this is a must and it conveniently so happens that Tartu will also host annual open air Christmas fair in the city centre on 11 December from 10 a.m. til 4 p.m.
If you wish to prepare yourself by the help of Youtube for all the awesomeness:
"Kägara" – Wintry Tarty Folk Dance Day 2016
Wintry Tartu Folk Dance Day 2018
Wintry Tartu Folk Dance Day 2019 
Wintry Tartu Folk Dance Day 2021
Also, hop over to gallery from 2018, one from 2019 and to a gallery from 2021.